Specialists in Wooden Architecture and Timber Frames
Suppliers of budgeting tools, quality construction plans, CNC models, and interlocking kits.
We believe in the time-tested strength, beauty, and assembly ease of the interlocking construction joint. All our work and products revolve around this principle. An interlocking arrangement; secured with the pin. It is beautiful, practical, and strong. We design and build with this as a guide.
Let's get started.

---
Navigating Design and Pre-Construction
The suggested flow chart below is to help you through the process and get your projects started on the right foot with the best value. The Pre-Construction Guide represents how to logically prepare for a potential project. We hope you find it useful as we have your best interest in mind. We rely on our expertise and confidence in wooden architecture and timber frame construction. Joint and Peg addresses and provides solutions to problem solve for you in the following areas: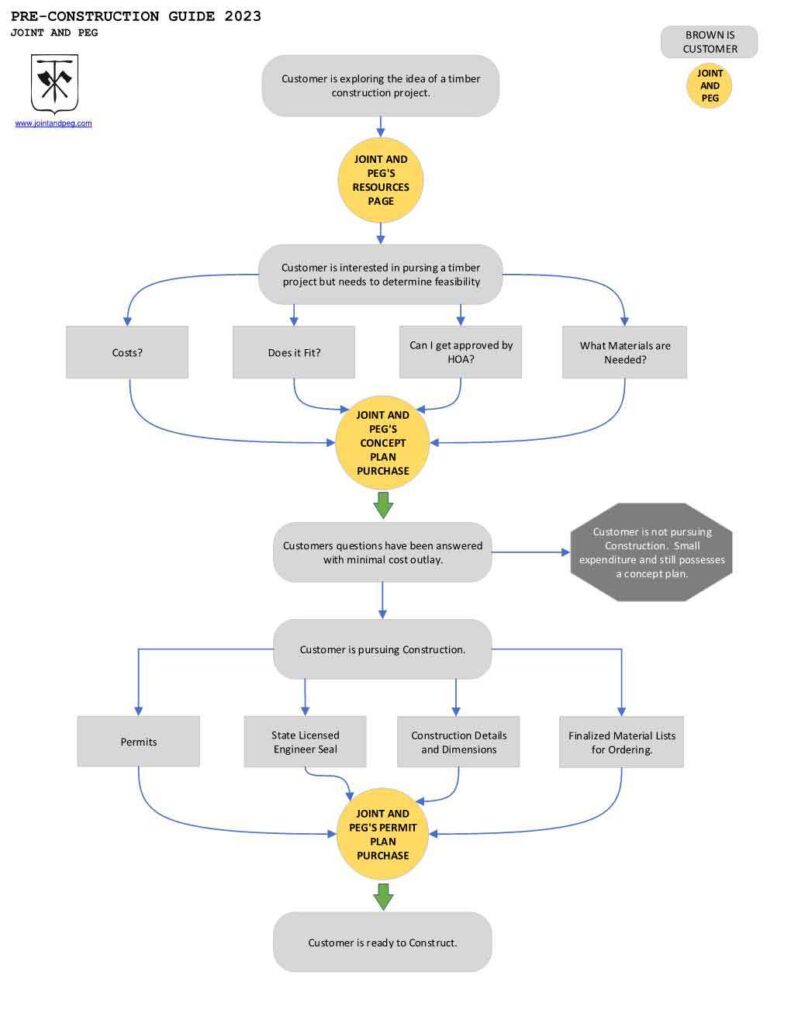 Providing inspiration for your projects
Education and learning about timber construction
Concept Plan provides elevations, plans, and sections to scale.
Concept Plan provides budgeting tools to determine rough costs of project
Concept Plan provides a medium to clearly communicate with others
Concept Plan provides the information to see if the structure will fit the site
Concept Plan provides the information on the quantity of materials needed.
Concept Plan serves as a submittal for preliminary approval with HOA or others
Permit Plan provides construction details and dimensions
Permit Plan provides State License PE Seal on drawings for permit
Permit Plan is delivered in hard copy format to you.
Permit Plan provides finalized material lists for ordering.
Permit Plan also serves as construction drawings for the work.
Our Concept Plans to the Rescue
Why spend hundreds or even thousands on plans when you don't know if the project is feasible, allowable, or affordable yet? We don't understand either, so we have done something about it. Our Concept Library has scaled design plans for less than $20 USD per plan. We have invested a great deal of thought and time in these and are confident you will find them very useful.
Once you have found the design you like, used our budgeting tools provided in the concept plans to deem it within budget, and gained preliminary approval by submitting a copy of the concept to your local authority, we will guide you to the next step.
Now is the time for Permit Plans
We credit the amount you spent on the Concept plan towards your permit plan set. You can submit these drawings for permit to your local building department. This construction set includes all the dimensions, bills of materials, and connection detailing to fly through approval and also serve as shop drawings for the construction.
Unless this is a small accessory shed or the like, this permit plan will include a state licensed PE seal on the plans. We can provide engineered documents in all US States but two.
Construction Time!
You don't want to or have the means to cut the wood yourself? Well, we can provide you with a CNC ready model of your design for an additional charge based on the amount of wood. If you are close enough to us we can even provide pricing on building the frame on site for you. You will see whether this is available as you look through our libraries.
"Wait, I want something you don't have!"
We hear you and have experienced designers/ builders on the crew. We can help. Our rates are $85 per hour design time and $225 per hour for engineering time. The ratio of design time to engineering time is usually 10 to 1. We will provide an estimated amount of time needed to you in our proposal before your acceptance.
3d Modeling
From scratch or starting with your Sketchup or other models
Renderings
Presentation grade renderings for marketing or approvals.
Material Controls
Quantifying, listing, and optimizing your material needs to save resources and money.
Permit Drawings
Design and engineered drawings with state PE seal.
Shop Drawings
Construction aligned drawings for layout and fabrication.
Concept Plans
Quick modeling and plan set for budgeting purposes.
---