Providing quality design, engineering, and full timber frame services for construction projects. We are experienced builders, carpenters, and designers. Assembly sequencing, raising, and its relationship with solid joined connections is just an important to us as a beautiful architecture. We take both seriously.
Our approach to custom design has our services broken down into logical stages. We have your finances in mind and believe in not committing to a huge outlay until you know your project is feasible. This approach is why we offer the concept drawings service. Let's get a scheme in front of any approval boards such as a HOA or ARB before producing detailed drawings.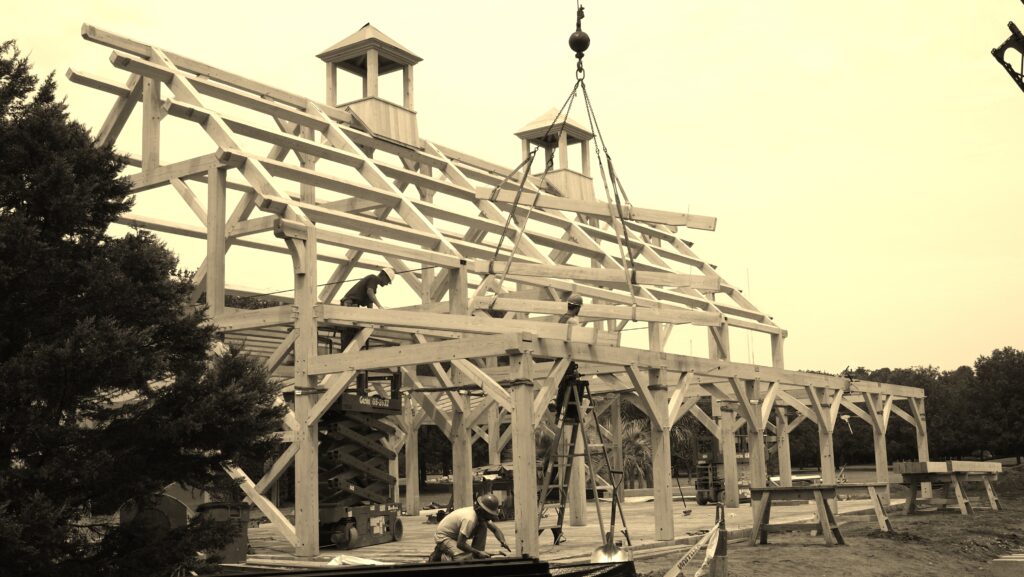 Serving the Continental USA with a focus on our home, The Southeast. We are experienced in heavy timber frame design, residential design, project management, and project feasibility services. Our experience is nationwide.
Concept Service
Many of our custom design clients will have us produce a concept model before hiring us for other services. It's a good value, and a logical approach, for determining whether to move forward with more involved timber frame services such as Permit and/or Fabrication drawings. We work from scratch and from architectural plans.
Working with your SketchUp Model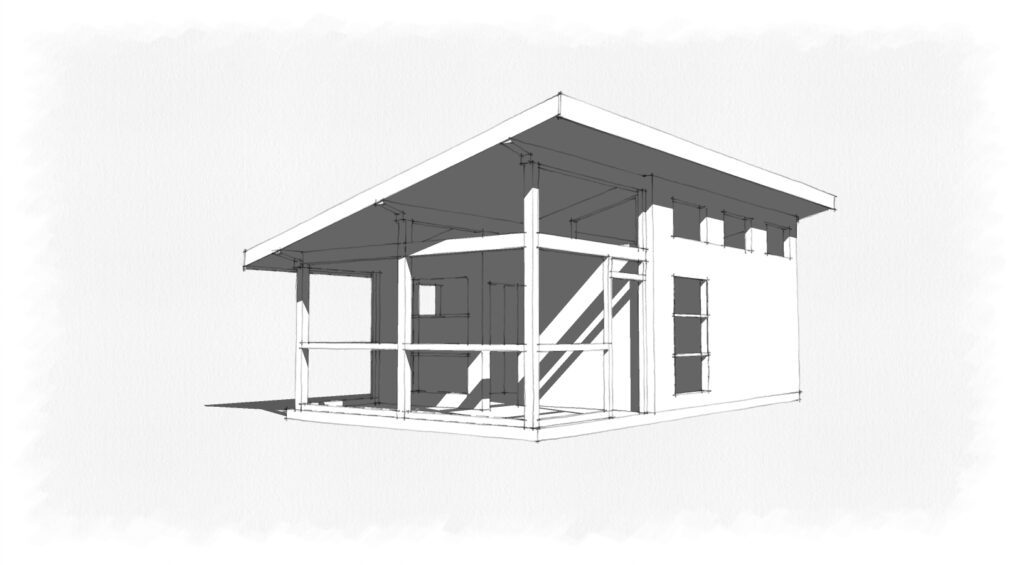 We provide the timber frame Sketchup model service commonly to other timber framers, timber frame companies. If you like to model your own frames but then get to the point where either you don't like to produce 2d drawings or lists, or you are limited by the Sketchup, then this service is for you. We do ask that you have your Sketchup model built with proper components. We can fix this too though. Our typical "Working with your Sketchup Model" service provides the following:
Assignment of Parts numbers to each element in your model
Production of 1 to 2 sheets of axonometric views that show the parts numbers.
Cut list of timber or other parts with the appropriate unit for the material
Piece drawings of your chosen timbers produced for fabrication work.
Joint and Peg's standard 3d modeling service serves as the basis of our design work. We produce clean and precise modeling. Described below are a few paths and options that our clients may choose from. We are also confident in suggesting which design service is appropriate after discussing your construction project and/or stage with you.
Permit Drawings
Joint and Peg's permit drawing service for timber frame design and engineering are offered on a custom basis for our clients. This service includes residential, farm structure, and accessory dwelling unit design and construction documents with state engineer seal. What's includes is as follows:
What's not included but might be required by your local authority:
Shop Drawings
This standard includes a full set of drawings for your build including bent and wall frame drawings. Our frame bent drawings are designed by a timber framer and thus always consider raising sequencing in the design. The seasoned carpenter/timber framer can build the frame from our bent drawings.
Timber list
Production Numbers
Joinery Details
Stick Drawings
Individual piece drawings of the structure. Only as a last measure. You should not need these considering the thought that goes into the Plan Shop Drawing Set. Sometimes with complicated compound members, this service makes good sense.
Materials Optimization
Easing minds and clarified accounting of materials is a service we think is undervalued. At Joint and Peg we can work with your model, or ours, to reduce waste through optimized ordering of materials. This not only saves money, but resources as well. On medium to large scale projects this optimized material service can directly and immediately save 2x the cost of our service. In other words, it's feasible for our service at $750 to save your $1,500 immediately at the time of material purchasing. Includes the following:
Optimized Material Ordering
Production Number Assignments and List
Nested Drawings showing which Production Number is in each ordered piece.
Contact us for a free Estimate! Send us your Sketchup model or other cad formats. You will like this service!
CNC Fabrication Model
Builder Member or Approval Required
This purchase provides you with a 3d model that can be used for fabrication by a CNC machine. All the timber joinery is cut and labeled according to our drawings and model. This purchase includes a licensing agreement for use of the model on one construction project at one location. Engineered Timber Frame Plan is included unless the project does not offer engineering as it is a small pergola or shed. Our models are guaranteed collision free and to be 100% accurate with what is shown in the drawings. We can also suggest CNC fabricators. Model comes with associated parts lists, production lists, and viewer files.
File formats include: ACIS 7.0 (.sat), Rhino (.3dm)
Included written licensed use of Joint and Peg copyright for one structure.
Ready to Assemble Timber Frame Kit
Builder Member or Approval Required
We manage the production of your frame and have it delivered to your construction site. Only available currently in the Tri-State area of North Carolina, South Carolina, and Georgia. This product includes our Engineered Timber Frame Plan unless the project does not offer engineering as it is a small pergola or shed.
States that this service is currently offered are listed in the additional information of each product. The available timber species options are also listed there. It is possible that certain timber frame members cross section might have to change slightly during the engineering process. We have taken this consideration into account in our pricing and it is included with your purchase. Shipping is not included and will be quoted. Please contact us with your questions.
We can provide installation and raising services for projects in the Carolinas on a case-by-case basis.