Providing Cut Lists from your Sketchup files.
We understand Sketchup users' needs to have their modeling work turned into some quantifiable information. As great as Sketchup is for creating concepts and renderings, it does have some shortcomings when it comes to quickly and accurately producing useful information such as Cut lists, Timber lists, Parts lists, and Production lists.
At Joint and Peg we have developed a process to quickly import your Sketchup Model into our Cadwork software. Through the use of a high tech IFC interface we can accurately take your model and reproduce it in our software. We can then quickly export essential information for your project to maintain accuracy, save time, and save money.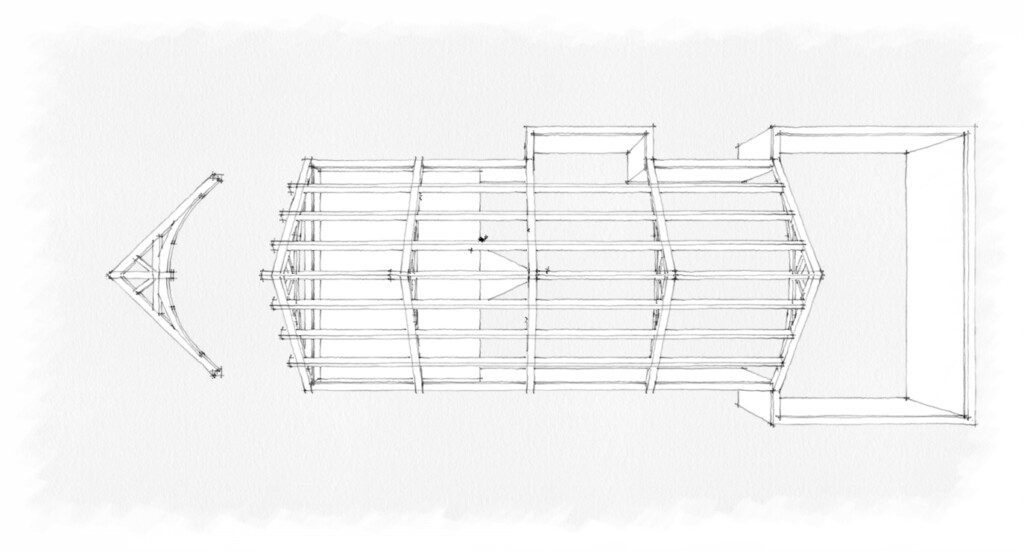 Timber Lists:
After we have your model in our software, we can take the modeling and assign Part's numbers and create timber lists for you to quickly send to your sawyer or mill for processing or quoting. Identical parts numbers are assigned to members that require the same rough stock length when ordering but not the same actual length. For example, if you have a piece that is 8'9" and another that is 9'2" you would order a 10-footer for each.
You can either have your joinery already complete in your SketchUp model or not. If you do not have the joinery incorporated, we will add 6" to each end as a conservative measure to make sure the rough timber accounting is in order.
All timbers 8' and less in length will be rounded to the nearest foot.
All timbers more than 8' in length will be rounded to the nearest even foot.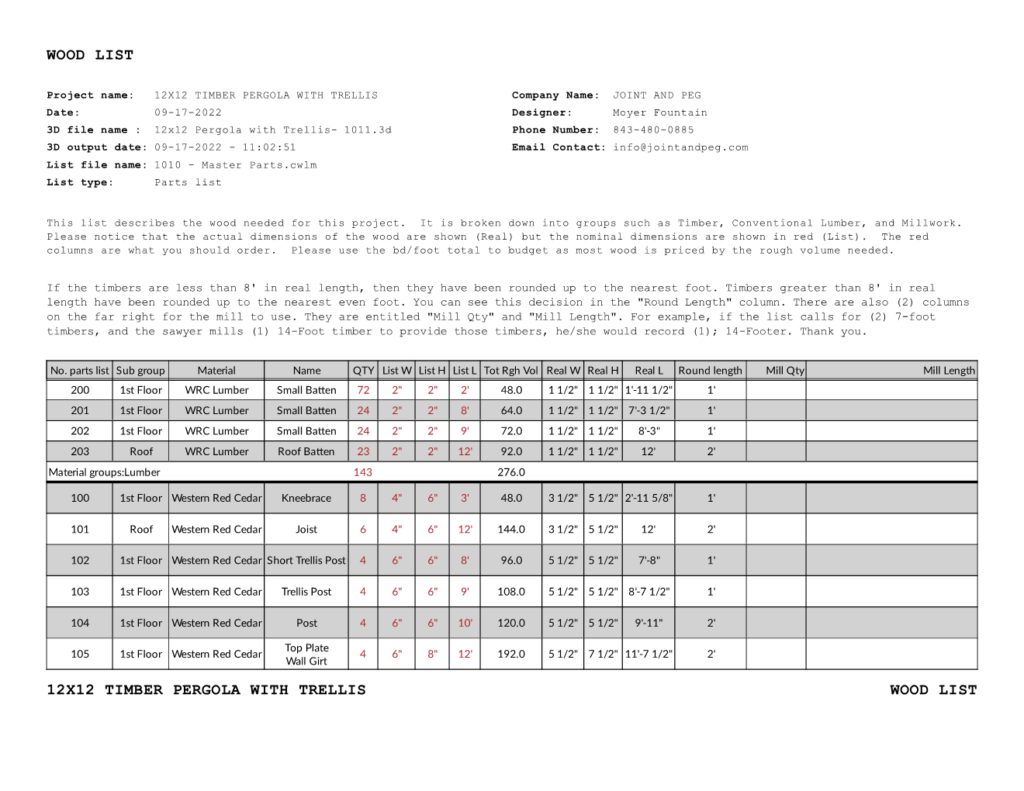 This service to produce the timber lists costs $100 per frame. Our requirements are that your SketchUp model have each member as a component. If your model does not have this order we will not be able to offer the service at that price. Given that the Sketchup model has been produced correctly we will provide the following:
24 hour return
Axonometric View of your frame with Part Numbers assignments
Timber list in .pdf format

Part Numbers
Real Length
Round Unit
Round Length
Total Qty of Timbers
Total Rough Board Feet

Timber List in .csv file (Excel)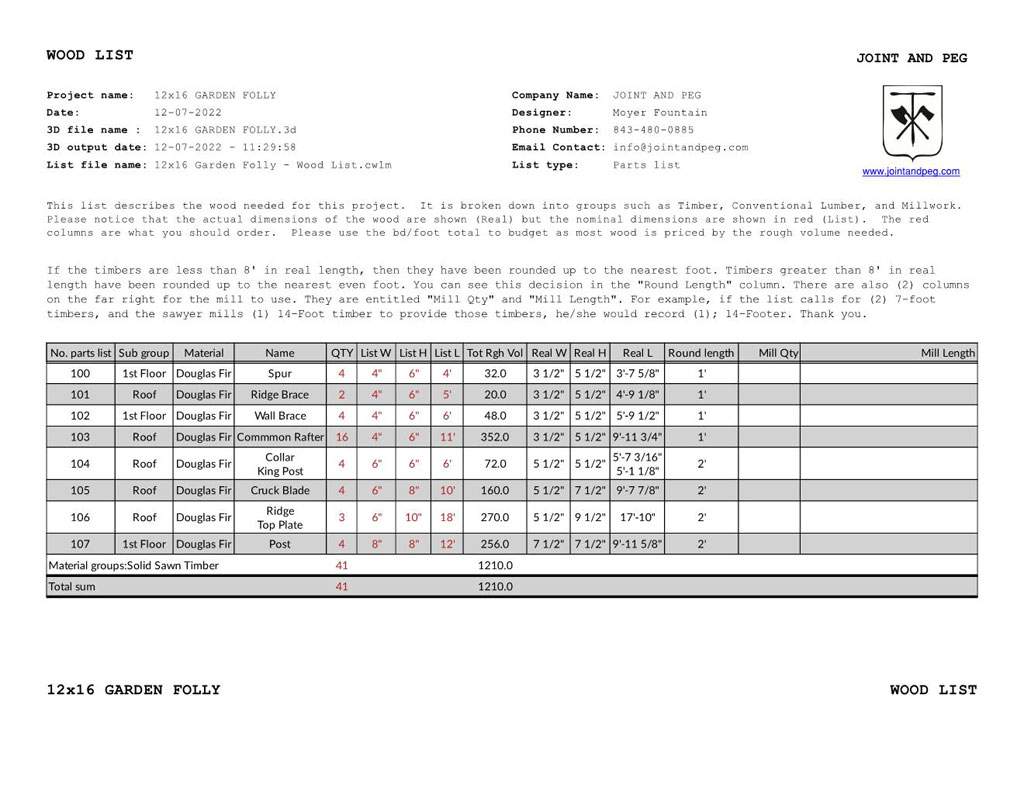 Send us your Sketchup model. We will do a take-off and send you a timber list back.  Use the list to budget and send to suppliers.
Fabrication Drawings:
Production lists:
Production numbers are assigned to members that are identical in all characteristics. After we assign the production numbers we can then export individual piece drawings. These piece, or stick, drawings allow for better understanding on how to layout the work.
After we have produced parts numbers for the timber list and production number for the fabrication we can then provide Single Beam Drawings.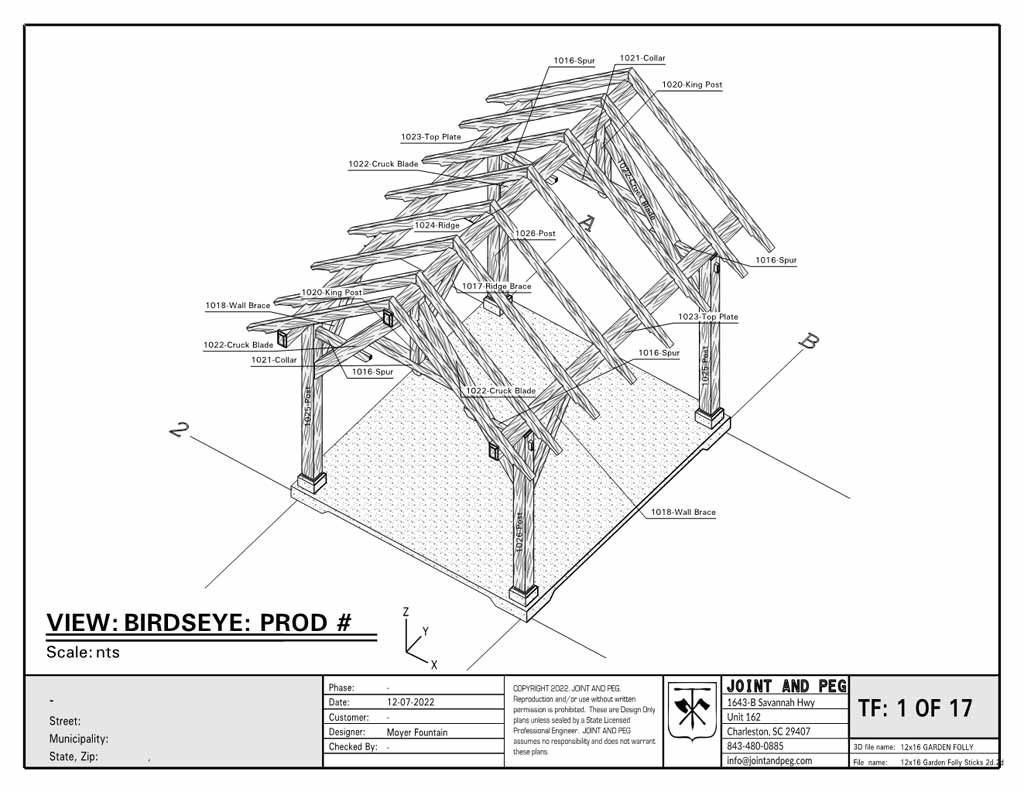 Single Beam Drawings (Stick Drawings):
Our single beam drawings take every member of your frame and place each on its own 11×17 sheet. The single beam drawings will represent exactly what you have sent us. We provide proper reference-based dimensioning.
Production numbers are assigned to members that are identical in all characteristics.  After we assign production numbers, we can then export individual piece drawings or fabrication drawings.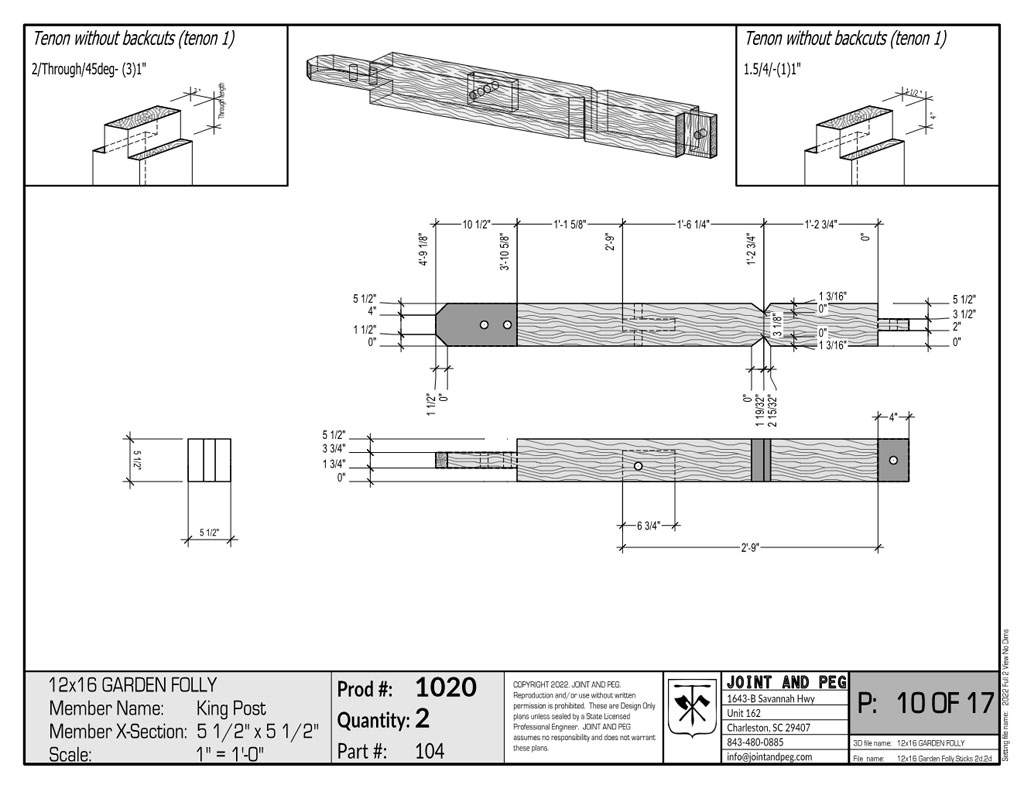 The price for this service will be quoted to you after we have produced the timber list for your model. However, you can assume that pricing will be based upon this further information:
Conclusion:
What does this mean for you?
In summary, we can take your Sketchup model and send back to you in short order:
A wood list to budget and order your material
A production numbered reference drawing that assigns all the pieces with a production number
A set of individual piece drawings based on those production numbers.
What does this typically cost?
Here at Joint and Peg we have invested a great deal of time in setting up this system. Your timber list and other information is quickly and accurately produced from your Sketchup model.
Pricing for the timber list is $100 per frame.
Pricing for producing fabrication drawings starts at $375 up to 2200 bd/ft of timber. Any additional timber is charged at 7.5 cents per bd/ft. We use the rough bd/ft needed to order for the structure to avoid confusion. That number is the same total that is in the provided timber list. A deposit of $375 is requested. The remainder is due upon approved completion.