This is just the right size Pergola for a small patio structure. The frame can really go well in any outdoor environment, but it especially enhances your backyard or formal garden. This 12×12 Timber Pergola plan provides a tremendous amount of valuable information for a fractional price.  Use the plans to build yourself, send them to your HOA, or use them to gather bids from contractors.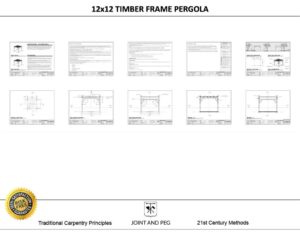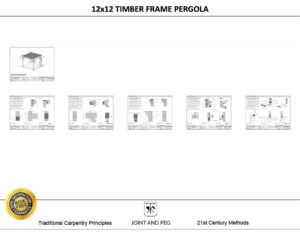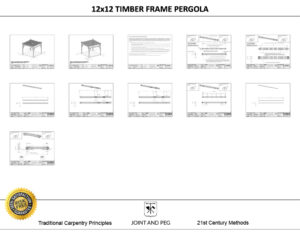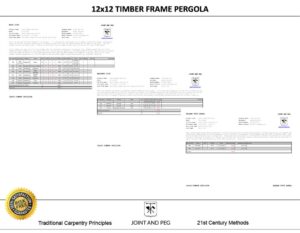 12×12 Timber Pergola Plan includes (4) download pdf files provided immediately upon purchase with the following:
Core Plans – (10) Letter Size Sheets
Material Lists – (6) Letter Size Sheets
Timber Frame Joinery Details – (6) Letter Size Sheets
Timber Frame Beam Drawings – (11) Letter Size Sheets
Colored renderings
Scaled architectural elevations
Scaled plan views
Scaled section views
Material diagrams
Material lists
Construction notes
Bonus Plans!
Timber Frame Joinery Details (Typically an Add-On)
Timber Frame Individual Piece Drawings (Typically an Add-On)