This 16×24 timber pavilion is a standout from other heavy timber frames in that it uses significantly less material. All the while without sacrificing the feel and strength of a properly constructed timber structure. The smaller timbers in the frame results in both money and labor savings.
It is well suited for park shelters, backyard outdoor living, an even a single bay carport.  Hang some curtains and watch them flow in the breeze while you entertain under this timber pavilion!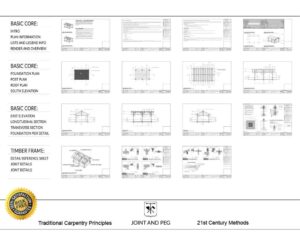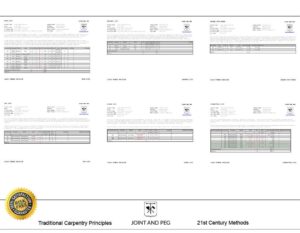 16×24 Timber Pavilion Plan includes (2) download pdf files provided immediately upon purchase with the following:
Colored Renderings
Scaled Architectural Elevations
Scaled Plan View
Scaled Section View
16×24 Pavilion Material Diagrams
16×24 Pavilion Material Lists
Available Add-Ons
16×24 Pavilion Timber Frame Details
16×24 Pavilion Timber Frame Single Beam Drawings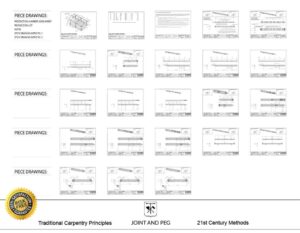 Important Information Regarding Purchased Plans
Every state, county or municipality will have its own building and code requirements as environments differ from one region to the next. It is possible that your plan may need to be modified to comply with these local requirements and conditions. This is particularly true in coastal areas and those facing seismic events, extreme winds, and heavy snow.
If you are building in any of these areas and depending on the size and purpose of the structure, it is likely that a licensed structural engineer will be needed to provide the necessary calculations and stamp.
All pre-drawn plans from Joint and Peg do not carry a stamp from a licensed architect or a licensed engineer. Please understand that we will not be held responsible for the performance and suitability of this design plan as we don't know the criteria with where you plan to build, nor the material to be used, nor any additional structure to be implemented in the construction.
If this is a requirement from your local building department, or it proves to be the prudent thing to do, Joint and Peg can provide you state sealed engineered drawings for an additional fee. When it comes to the time to build, we highly recommend that you enlist our engineering service.  Otherwise, the onus of this structure's performance is solely with others, not Joint and Peg.
Single Use Terms
We authorize the use of our plans for one single project; conditioned on your obligation and agreement to comply with all local building codes, ordinances, regulations, and requirements, including permits and inspections at the time of and during construction. Multiplied use of our plans is prohibited. Thank you.