Professional Timber Frame Plans
Here is a detailed explanation of what you receive from Joint and Peg when you decide to purchase one of our timber frame plans and the additional options. We have you covered, and your best interest in mind. Our goal is to provide you with the most accurate and professional plans available. Let's review the different timber frame plan specifics.
What is included with a plan purchase?
Submit drawings for approval with your HOA. Request pricing from builders or budget your own build. Our base plan is essentially a basic scaled architectural plan AND a preliminary material take off. It is your best first step and solution. All base timber frame plans offered for sale on our website are $60 USD and less.
Basic dimensions are supplied in the timber frame plan. We provide dimensions so that you can see how wide and tall the building is as well as the slope of the roof. We provide call outs of important details and reference our Timber Connections Library so you can peruse the options for the connections. The drawings and material lists included serve a few purposes that are addressed below.
Submittal for Approval
Perspective view and renderings provide style and work great at getting people excited about a project. There is also an elevation with a nice, landscaped backdrop setting. Use these pretty views to drum up support! This section is great for submitting drawings to your HOA or other authority.

Architectural Aspects
Information on the height, scale, and mass of the building. Includes base dimensions for overall footprint, eave heights, roof slope, and ridge heights. Use these sheets in the plan to consider the site and how it fits into your possible construction area. Trades and Contractors should be able to use this section to give you a preliminary cost.

Material Take Off
Material quantity lists to help you, or your builder, understand costs associated with this project. Timber in board/feet and concrete in cubic yards. No other supplier of plans gives you this much information for this value.

(1) Masonry View that corresponds with the Masonry Take Off List
(1) Wood View that corresponds with the Wood Take Off List
(1) Square Foot Surface View that shows perimeter lengths and areas
(1) Wood List that includes all the amounts needed for the project
(1) Masonry List that includes all the concrete and grout needed for the project
(1) Surface List with Areas and Perimeters Totals to determine finish material pricing

A plan purchase includes all the above. A plan purchase serves as credit when you need engineering plans, or other more expensive add-ons related to the plan. We will have your purchase on file and will apply a coupon for 100% of the concept price as a credit towards an Add-On that you come back to us requesting.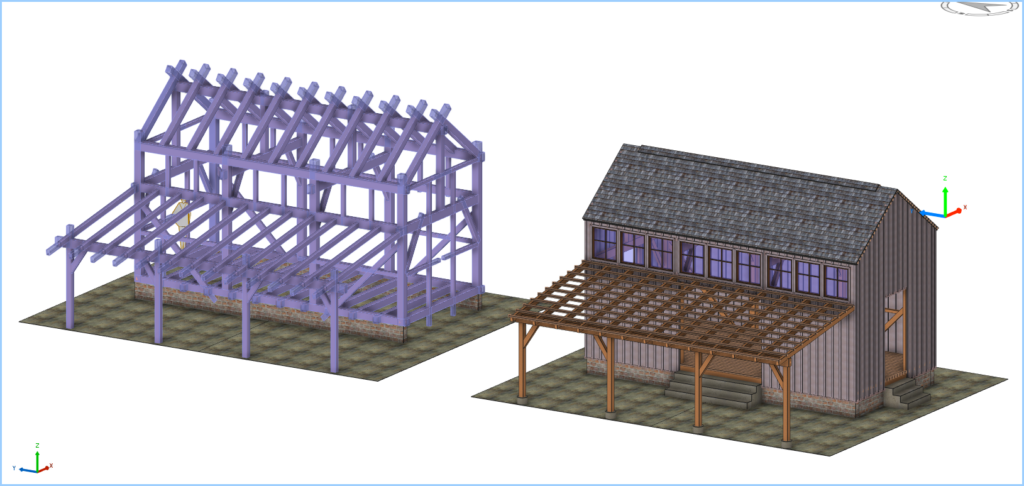 Engineering Seal Add On
Are you ready to build but the permit office, or prudence, or Joint and Peg, is suggesting engineered drawings?
Then it's time to get proper construction drawings with our Engineering Seal Add On. The set covers all bases including the methods of the work, compliance, and materials. Our individual product pages "Additional Information" describe whether we can provide this service for your state.
A Professional Engineer that has licensure in your state will seal your plan. Consequently, the plans will include site specific address data, design criteria, and material specifications. You can submit these construction documents directly to any Authority Having Jurisdiction (Permit Office) that is requesting or requiring these for your project. You will have at least (3) choices of timber species. Typically, you can count on Southern Yellow Pine, Douglas Fir, or Oak to pass muster. You will let us know which of those is most suitable for you.
** Without the engineering seal material species is not specified, as we do not know where you plan to build this plan. The site environment whether it alpine or coastal, both have their different live loads and exposures. Therefore, these are design only plans in which we cannot claim whether this configuration will work for your area. Consequently, Joint and Peg can make no claim or warranty to its suitability or performance.
We have our engineering add-on available, and we always recommend it.
Sealed Section of the Plan
Cover Sheet
Design Criteria and General Notes
Material Specifications
Axonometric Views
Frame Design Plan Views, Elevations, and Sections
Joint Details and Connections
Fully Dimensioned with the correct references (Carpenter dimensioning)
Foundation Plan View, Section, and Detail
Individual Piece Drawing Option
If desired, we can provide the following additional option to accompany the purchase of our Engineer Seal Add-on.
Our plans and connection details provide enough for the competent carpenter and builder to complete the timber frame project. Our DIY's sometimes need a little more help with laying out the timber. So, we provide individual piece drawings of every member as some additional guidance if you need it. Our plans are presented so our reader understands the structure as a whole composition, not just a bunch of separate parts. We find this important to successful and rewarding carpentry. However, in a pinch these individual piece drawings can be beneficial when you have a head scratcher.
An In Depth Look at our Plans
Here is a full explanation of what should come in a proper shop drawings plan. We take pride in providing the most accurate and knowledgeable plans at a reasonable price. Our timber frame plans are geared for Carpenters and Builders, however if you are handy and have good mechanical woodworking skills these are for you too. Like any good set of construction plans, there should be the right amount of clear and accurate information to allow for proper work to occur.
Not all plans are created equal! A good set of plans should be the work of a good designer who has a good understanding of the materials they are using and how those parts go together on site. Joint and Peg's design crew has steel toed boots in the closet. We know the materials as we work them!
Below, we show how Joint and Peg breaks down our plans into logical sections geared for seamless material ordering and construction progression. That said, we only illustrate a few sheets for each section below (there are more than 3 sheets per section of our plans). Furthermore, we not only provide the best of the best designs and timber frame plans, we like to also provide guidance for the whole project.
Introduction to the Plans
Here we go into how to interpret the reference numbers of our plans and how to go about using them in general. We provide timber frame plans with lists to budget and order materials. The plans also provide construction dimensioning and detailing too. Reference numbers are assigned so you can easily discern the two different purposes of ordering material and constructing it. Both parts numbers and production numbers are provided. That is all clearly explained in our plan introduction. You are also provided optional hardware recommendations to you to choose from.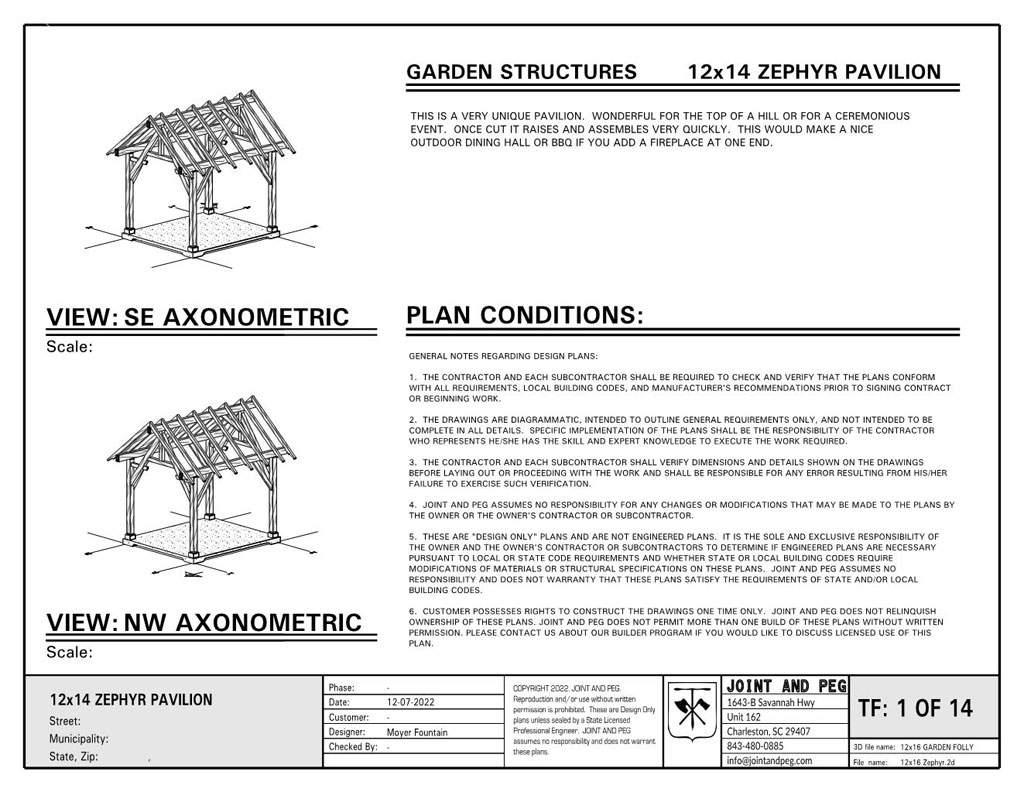 Typical Design Views (Core Set)
The basic core set of our timber frame plans. Here we will have your typical architectural plan views, elevations, section views, and a foundation detail. We provide standard height datums and reference proper planes for good building sense and dimensions. Typically, we will provide running measurements as it is more accurate and efficient than picking your measuring tape up and putting down again.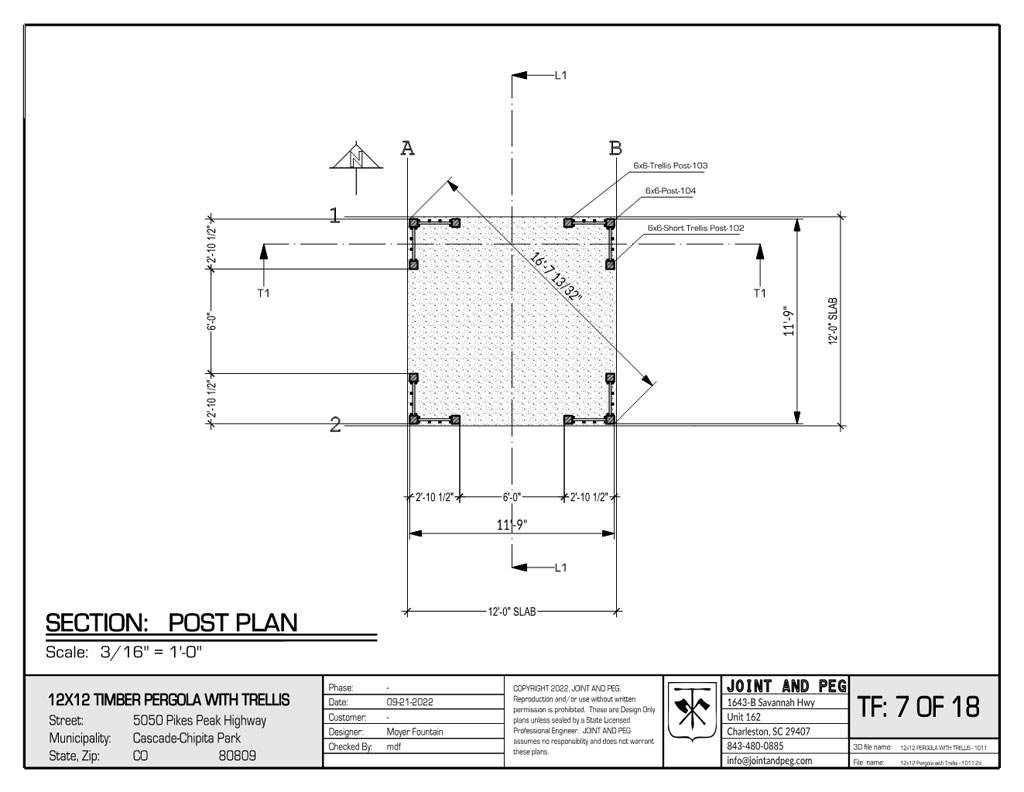 Joint Details
These sheets will include joinery connection details. You can find these joint details, or connection details, within your plan set or in our Timber Connections Library. Clearly see how the joint goes together by referencing our 2d views and an axonometric view of the timber connection.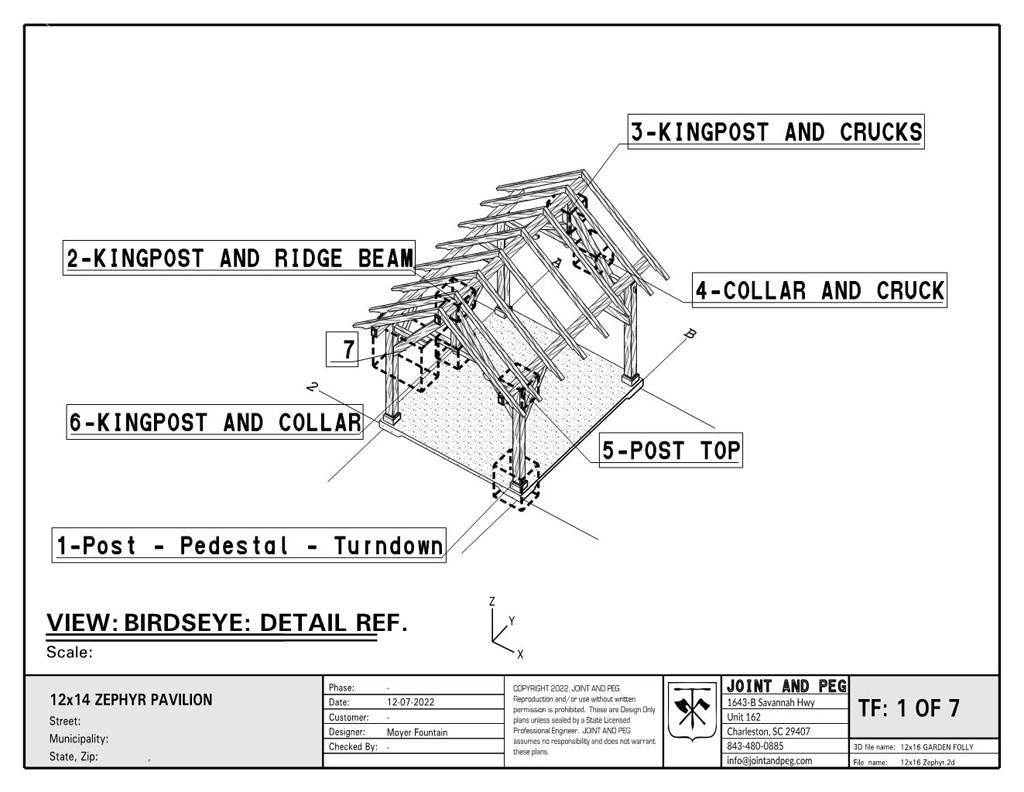 Individual Piece Drawings
The Core Set and Joint Details are enough for the competent carpenter and builder to complete the timber frame project. Our DIY's sometimes need a little more help with layout of the timber. Due to this, we provide individual piece drawings of every member as some additional guidance. When you read our plans you will understand the structure as a whole composition. We find this important to successful and rewarding carpentry. In a pinch, these individual piece drawings can be beneficial when you have a head scratcher.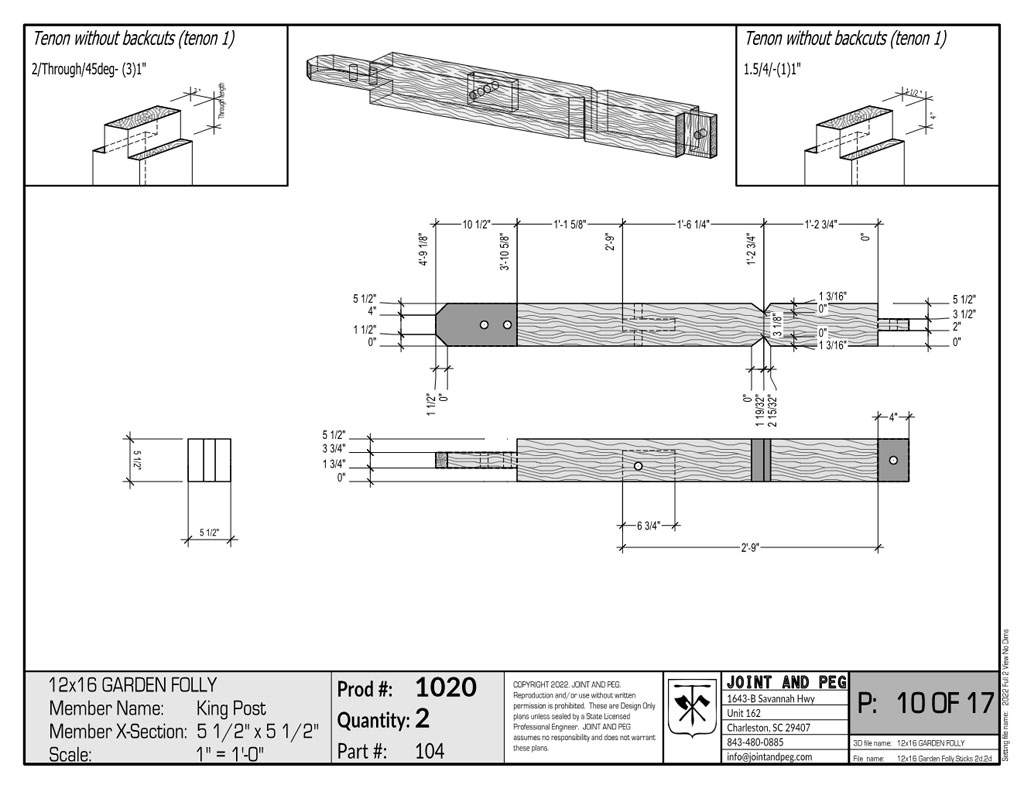 Material Lists
No other company supplies extensive lists like we do. These lists include all the Wood, Concrete, Screws, Pegs, Miscellaneous Hardware, and Sq/footage take off for floor, roof, and wall areas. They are precisely accurate and thorough.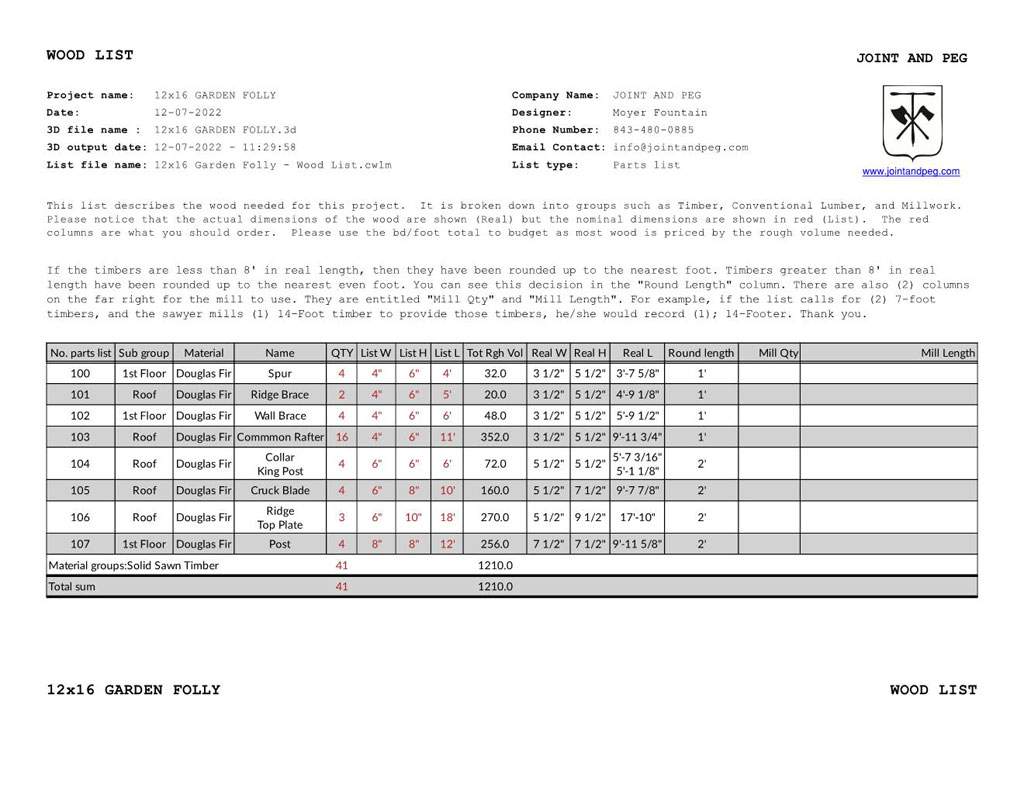 CNC Model
This purchase provides you with a 3d model that can be used for fabrication by a CNC machine. All the timber joinery is cut and labeled according to our drawings and model. This purchase includes a licensing agreement for use of the model on one construction project at one location. Engineered Timber Frame Plan is included unless the project does not offer engineering as it is a small pergola or shed. Our models are guaranteed collision free and to be 100% accurate with what is shown on the drawings. Furthermore, we can also suggest CNC fabricators. Model comes with associated parts lists, production lists, and viewer files.
File formats include:
ACIS 7.0 (.sat)
Rhino (.3dm)
Prequalification or Builder Member Required
Ready to Assemble Timber Frame Kit
We manage the production of your frame and have it delivered to your construction site. Only available currently in the Tri-State area of North Carolina, South Carolina, and Georgia. This product includes our Engineered Timber Frame Plan unless the project does not offer engineering as it is a small pergola or shed.
Prequalification or Builder Member Required