Steps in a Timber Frame Project
So, you want to build a timber frame or other wooden structure? Fantastic, we are here to help! Our intent is to clear up your questions, instill confidence, and produce a successful outcome. Our timber frame project guide provides chronological steps to allow for a rewarding timber frame project construction experience. We provide you a clear Table of Contents on the steps of a timber frame project below.
This article will consist of three different installments. The following is the first and addresses pre-approval of your construction project.
Research Timber Frame construction!
First, we recommend looking through pictures and plans of timber frames so that you can understand the style of the construction. If you already are familiar with timber frame's strength, beauty and other characteristics that's wonderful. For those of you that are looking into the construction style. Let talk about what we recommend for you:
Look at pictures of built timber frames.
It sounds obvious enough, and it is. A picture is worth a thousand words! Looking through pictures of timber frames helps a great deal. Here is one our founder designed and built in the Lowcountry of South Carolina!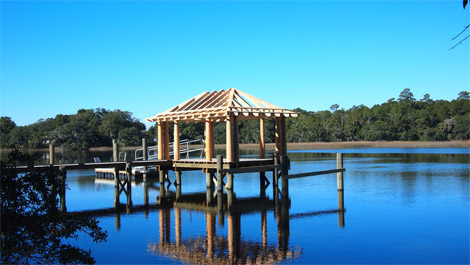 What function will the timber frame serve?
This is incredibly important. Are you looking for a timber frame barn, or pool house, or maybe a pavilion? You want to make sure that the timber frame not only fits well, looks great, but also creates real value! Read more about timber frame pavilions. Maybe you are looking to incorporate timber frame trusses into your home in the great room.
Get an idea of costs of the timber frame.
Dreaming about timber frames is great. Let's make sure that your dream fits within your budget. Here at Joint and Peg we offer Plans that are at a reduced price. We believe they are valuable plans to determine costs and feasibility of a project without breaking the bank. If you want to have a look through our library for inspiration that works as well! We would be honored to have one of our designs as the basis for your project!
Once you have answered these questions you will be in a much better position to make a sound decision to move forward with your timber frame project. Here at Joint and Peg we do understand that the are other factors that can weigh in on your project. We will discuss those in the following topic.
A good approach to starting your timber frame project.
The suggested flow chart below is to help you through the process and get your projects started on the right foot with the best value. The Pre-Construction Guide represents how to logically prepare for a potential project. We hope you find it useful as we have your best interest in mind. We rely on our expertise and confidence in wooden architecture and timber frame construction. Joint and Peg addresses and provides solutions to problem solve for you in the following areas: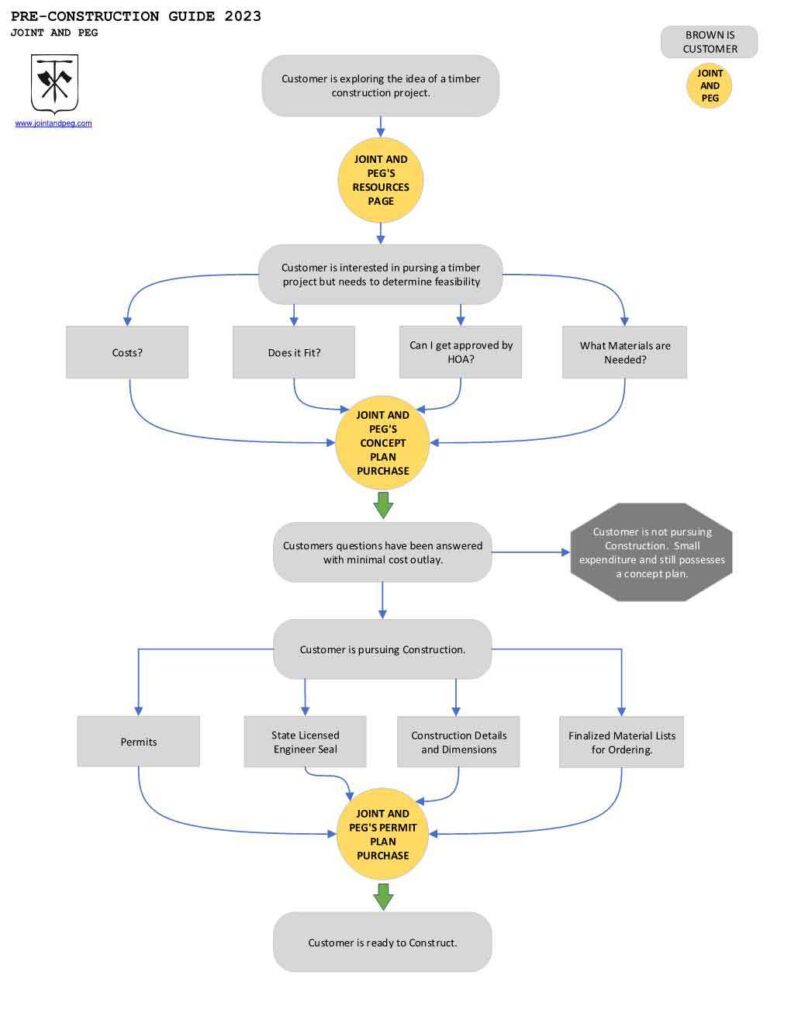 Providing inspiration for your projects
Education and learning about timber construction
Plans provides elevations, plans, and sections to scale.
Plans provides budgeting tools to determine rough costs of project
Plans provides a medium to clearly communicate with others
Plans provides the information to see if the structure will fit the site
Plans provides the information on the quantity of materials needed.
Plans serves as a submittal for preliminary approval with HOA or others
Engineeered Permit Plan provides construction details and dimensions
Engineered Permit Plan provides State License PE Seal on drawings for permit
Engineered Permit Plan is delivered in hard copy format to you.
Engineered Permit Plan provides finalized material lists for ordering.
Engineered Permit Plan also serves as construction drawings for the work.
Our Plans to the Rescue
Why spend hundreds or even thousands on plans when you don't know if the project is feasible, allowable, or affordable yet? We don't understand either, so we have done something about it. Our Plan Library has scaled design plans for less than $60 USD per plan. We have invested a great deal of thought and time in these and are confident you will find them very useful.
Once you have found the design you like, used our budgeting tools provided in the concept plans to deem it within budget, and gained preliminary approval by submitting a copy of the plan to your local authority, we will guide you to the next step.
Navigating Approval of the Project
Your project could require permission from different bodies or departments. We will discuss three of them below.
Permit Requirements
Contact your Building Dept.
First and foremost, it is not reasonable to waste resources on planning for a project that you are not permitted to execute. Depending on what function your building will serve can determine what type of approval, if any, you will need. It's accurate that many areas of the country will require you to obtain a permit for your project. Exclusions can be smaller accessory structures such as gazebos or sheds. This is all dependent on your local municipal code as each county and/or city has different regulations on the matter.
Err on the side of Caution.
Regardless, unless you are certain you don't need permission, our experience proves it is best to contact your local AHJ (Authority Having Jurisdiction) to tell them of your intent. This does not require plans at this point. It does require a respectful disclosure of your intent of what you would like to do. Your local building Dept. will appreciate your forthrightness and give you valuable feedback and direction on what they will require of you for permitting your timber frame project.
Contact your Designer.
The feedback that the Permit Department provided to you should be forwarded along to your designer. When you begin your planning with these steps an efficient and correct design process is more likely. Joint and Peg welcomes you to send that information along to us as one of the first steps if you have enlisted our services for your project.
HOA Approval of a timber frame.
Gaining HOA approval for your backyard project including pergolas, carports, pool houses, pavilions, garages, and other garden structures can be a more daunting task than the permit dept with your local AHJ. The reasoning for this is because gaining approval from your HOA is a more subjective process than gaining a permit dictated by ordinances. What's difficult is that the HOA will want to see some drawings of what you are proposing to have built so they can rule on whether it will be allowed. This requires an expense in having drawings completed before you know if it will be accepted. Not a palatable situation for most and why we have created our library of concepts.
Architects can be a significant expense.
Architects can bill in the $200 range per hour and designers in the $85 to $100 range per hour. Here at Joint and Peg we have a library of timber frame plans, drawings, and lists to help with the HOA approval process. Our Concept Plans are less than $50 and provide not only a drawing that you can submit to your HOA, but we also provide preliminary material lists so that you can budget the project as well.
Joint and Peg can also provide custom concept drawings if you don't see anything in our library like what you are envisioning.
Architectural Review Boards
Gaining approval of your heavy timber frame project with Architectural Review Boards is analogous to the HOA process but can require more resources. Typically, ARB's exist in municipal historic areas. Paying attention to the context of the area will be good practice when designing for approval for new structures in historic areas. Using common materials, architectural styles, and paying attention to proper height, scale and mass will reap benefits in the process of gaining approval through the ARB's.
Although our Stock Plans can work for ARB approval process, we would recommend enlisting our Custom Concept Service when working with Architectural Review Board approval.
Now is the time for Permit Plans
We credit the amount you spent on the Concept plan towards your permit plan set. You can submit these drawings for permit to your local building department. This construction set includes all the dimensions, bills of materials, and connection detailing to fly through approval and also serve as shop drawings for the construction.
Unless this is a small accessory shed or the like, this permit plan will include a state licensed PE seal on the plans. We can provide engineered documents in all US States but two.
Construction Time!
You don't want to or have the means to cut the wood yourself? Well, we can provide you with a CNC ready model of your design for an additional charge based on the amount of wood. If you are close enough to us we can even provide pricing on building the frame on site for you. You will see whether this is available as you look through our libraries.